Best Galaxy Note 10/10+ film and glass screen protectors
5
We may earn a commission if you make a purchase from the links on this page.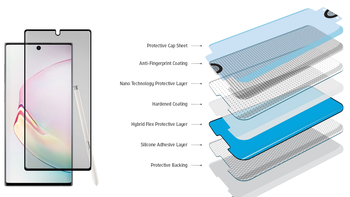 What, a $1000 phone and no case or audio jack adapter in the box? We hear you, early
Note 10
and
10+
adopters, especially if you are coming from a Chinese flagship where everything is included.
They are so thin and tightly-placed, though, that if you don't notice the slight edge around the front camera lens, you'd miss that there is a screen protector at all. While it's certainly nice of Samsung to want to spare you a few bucks, and pre-install a factory protector, some might want a tougher approach to covering the display of their precious and expensive handsets.
UltraTough Clear ScreenGuardz ($19.95)
A new generation of screen protection for curved edge displays, the UltraTough clear series from BodyGuardz has already landed for the
Galaxy Note 10
, and provides the feel of glass, with the durability of acrylic and PET composites.
Made with self-healing urethane film, the UltraTough Clear ScreenGuardz is the best of both worlds, as glass protectors are tough to master for curved edges, while film ones are scratch- and bubble-prone.
Moreover, they don't provide that extreme level of protection as the glass ones and are somewhat icky to the touch compared to real cover glass. This BodyGuardz series aims to right all those wrongs in one fell swoop.
InvisibleShield's Ultra Visionguard($39.99)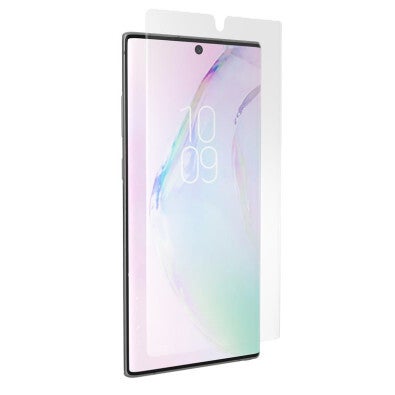 Curved glass protectors are a pain to get right, and most of them, even from reputable brands, are a tradeoff when it comes to side touch functionality or aesthetics. Most of the curved shields so far suffered from the usual touch sensitivity problems due to the adhesive being used at the edges only, or a certain amount of unpleasant shine when the adhesive was applied throughout.
Enter InvisibleShield's Ultra Visionguard, a new solution for handsets with flexible OLED displays that are sloping to the sides, such as the Galaxy Note 10 or 10+. The brand's previous curved protector efforts were as good as anyone else's, barring those that have to be installed using ultraviolet baking.
Instead of removing blue light entirely which can cause a yellow tint, VisionGuard removes just the most harmful high-energy visible (HEV) blue light rays. The price? At $40 apiece, the Ultra Visionguard is twice the film prtoection of BodyGuardz, but has more value to add than a simple scratch and crack protection, too.
Olixar Invisible Protection
If you want something more affordable, and still glass-based, Olixar's Note 10/+ Tempered Glass Screen Protector will do the trick. It has been custom cut for the Samsung Galaxy Note 10, and keeps it clear, scratch- and dirt-free.
It's fairly easy to apply, and offers the same protection and finger feel you've come to expect from more expensive tempered glass protectors, but at $16.99 would be a perfect budget addition to the thin factory one on the naked Note 10.
Black Ice+ Cornice Flex ($19.95)
Besides the 7-layer protection, what's unique about GadgetGuard's Black Ice+ Cornice Flex Edition is that it walks the talk and will cover against accidental damage to your Note 10 or 10+ screen.
If your beloved Note's display breaks while being protected by the Black Ice+ Cornice Flex you will receive up to $150 to go towards the repair of your phone's screen. Don't forget to register the Black Ice+ Cornice Flex purchase within 30 days, though.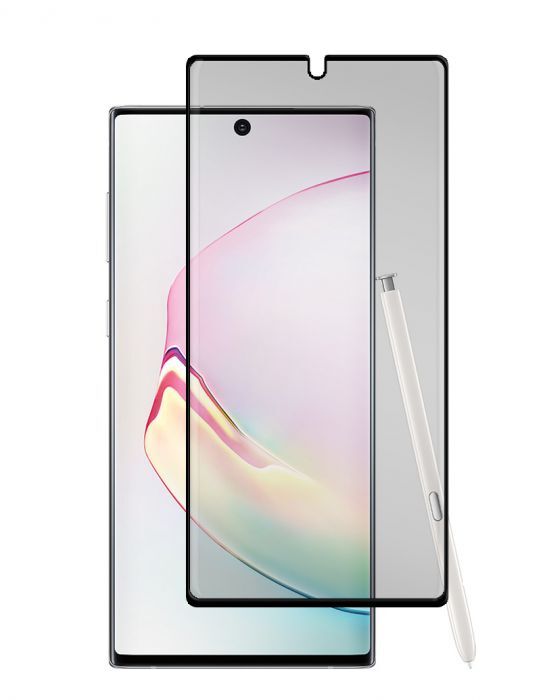 Whitestone Dome Glass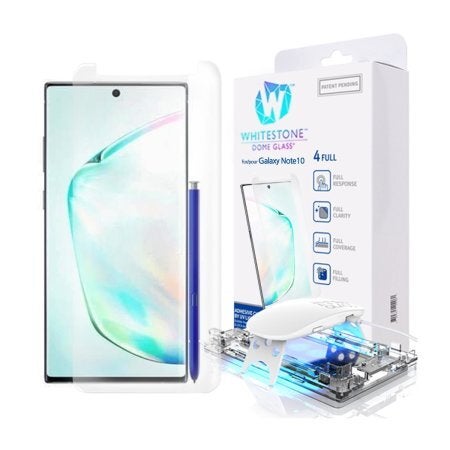 Whitestone is the only tempered glass screen protector recognized by SMAPP (Samsung Mobile Accessory Partnership Program), but did you note the "ultraviolet baking" mention in the previous writeup? Well, that's Whitestone's Dome Glass we were referring to, with 9H hardness for utmost protection, 0.3mm thickness, and 100% touch sensitivity retention, and that is a big deal for Samsung's edge-y phones of late.
Its liquid adhesive spills underneath the glass all the way to the rimless, colorless edges, as you can see in the video below, thus avoiding both touch issues on the sides and the nasty reflections that most other tempered glass protectors for curved screen phones exhibit. Granted, the Whitestone Dome does have to be baked with a lamp afterward, but, hey, you will be doing something with your own hands in this day and age of digital complacency!