Best LG V30 price deals you can get right now
1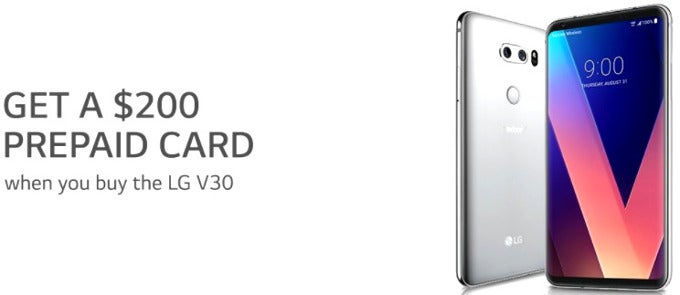 LG touts its newest
V30
flagship as the phone for digital creators, and rightfully so, as it is one of the most media-centric handsets out there, with top-shelf audio and video prowess, and even 4K footage editing built in, which has been an Achilles heel for many an Android flagship before. This is why every time we hear about a deal on this high-end seasonal hero from LG, we perk our collective ears up, and are rounding up some of the best promos you can currently find if you have been eyeing LG's latest and greatest.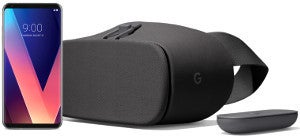 That one is a given regardless of where you have purchased the phone. LG is giving those new
Daydream Views
like candy in order to pull you into the immersive world of the V30, and, since it is a $99 value, we don't complain.
You need to visit www.lgv30launchpromo.com and enter the personal information requested, carrier where the purchase was made, and upload a legible copy of your receipt of purchase, as well as picture of V30 or V30+ box with the IMEI number. The online submissions must be received by Monday, November 20, 2017 at 11:59:59 PM ET.
Customers willing to buy the brand new LG V30 from Verizon Wireless can save $200 if they're getting the smartphone before November 6. The deal does not involve trade-ins, or any unusual requirements. However, savings are not instant, and not exactly in cash. Instead, you will receive $200 on an LG Prepaid Card via mail-in rebate.
Verizon is selling the LG V30 for $840 outright, or $35 per month for 24 months. To save $200, you will have to submit a proof of purchase (by November 20) at the second source link below. A Google DayDream View headset is also offered with the LG V30, though this isn't a Verizon-specific thing, as all V30 models bought from authorized US sellers come with this free VR headset.
If you need to buy two V30 handsets, for a limited time, T-Mobile will let you save no less than $500. To take advantage of T-Mobile's deal, both LG V30 phones must be bought on a 24-month equipment installment plan, with at least one new line activation. After all requirements are met, you'll receive a $500 rebate via Prepaid MasterCard Card. Alternatively, you can choose to get just one V30, and an LG G6 or LG V20 for free (also after rebate via Prepaid MasterCard Card). The LG V30 is one of the carrier's most expensive Android smartphones, costing $800 outright (or $80 upfront and $30 per month for 24 months).
After Verizon and T-Mobile, it's time for Sprint to shine with a V30 promotion, and since it is a proud carrier of the "plus" version with the larger internal storage amount, the BOGO deal becomes even sweeter. Yes, Sprint will do a 2-for-1 lease on the V30+ for you with a qualified plan, provided that you aren't a deadbeat with no credit to fall back on, and will start reimbursing the $38 monthly payments for the second phone within two billing cycles.
Given that the V30+ BOGO deal is essentially giving you the carrier's $912 phone for free, you can hurry up and snatch the promo before it has expired, in case you have been eyeing the souped version of the phone on Sprint anyway.
Just like Sprint, US Cellular is carrying the
128 GB V30+ version
, and there is a sweet, sweet deal if you buy it on installments on a new plan. Not only can the V30+ come for just $21.16/month ($634 total for 30 months), but if you port your number and get the $9.99/month Device Protection+ insurance, the carrier is also throwing in a $100 promotional card by MetaBank, which must be used before its expiration date. Svelte.