Best Buy's offering of the HTC Flyer doesn't come bundled with the stylus
2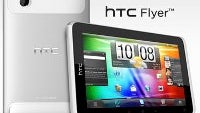 Gearing up for its eventual launch with
Best Buy starting this Sunday
, May 22nd, there are some people out there who are genuinely glad to see the HTC Flyer becoming a reality, though, they might be bummed out when they open up the box.
Apparently, the Wi-Fi only version of the
HTC Flyer
that Best Buy will be selling shortly
doesn't come bundled with the stylus
that's supposed to complement and enhance the experience. Obviously, prospective customers are going to be required to purchase it
separately at $79.99
, which brings the tablet's total cost of ownership to $580. Thinking about it more, some might be baffled as to why there's such a premium associated with the stylus, but then again, it's not simply a single piece of plastics. Rather, it's based off N-Trig's DuoSense capacitive touch technology.
Regardless of that, the lack of the stylus doesn't limit the tablet's overall operation since it should work swimmingly like most other Android tablet's we've seen thus far.
source:
Android Central
Recommended Stories