Best Buy pulls its $1200 Motorola XOOM pre-order page
3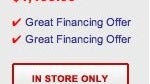 When it first came rolling onto the scene, there were many people at a standstill after learning that
Best Buy had the Motorola XOOM priced at $1200
. Naturally, the listing was at an exorbitant level which would make anyone quickly glancing over it to become filled with uncertainty. Some people assumed that it was a temporary placeholder until a decision was made on its finalized price.
However, upon checking the same exact link provided yesterday for the Motorola XOOM, it now seems that Best Buy has
pulled it off from their web site
. Instead, we're presented with nothing more than a
"page not found"
listing. Still, it makes you wonder why they even placed the page up since its pricing was clearly at a level that would instill uneasiness with most consumers.
Regardless of that, we're all hoping to see something slightly more competitive to place it in contention with the likes of the iPads and Galaxy Tabs out there.
source:
Best Buy
via
SlashGear