Best Buy database shows Sprint flavored Apple iPad
5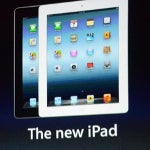 During
Wednesday's introduction of the new iPad
, Apple CEO Tim Cook displayed
the first 4G LTE devices to be produced by Apple
. Channeling his mentor (the late Steve Jobs) while on stage, Cook introduced LTE models for AT&T and Verizon. Well, there was one carrier offering LTE that Cook left out to no one's surprise, pre-paid carrier MetroPCS. But Apple did fail to mention the nation's third largest carrier, Sprint, which is expected to flip the switch on its own LTE network in the near future. Of course, the LightSquared failure means that
Sprint will have to look elsewhere for its LTE pipeline
, but the company still can turn to Clearwire to get its LTE network off the ground.
While Cook didn't mention Sprint on Wednesday, a leaked screenshot of Best Buy's internal inventory system shows that a variant of the
third-generation Apple tablet for Sprint
is going to be on hand at the big box retailer. When it will be offered by Best Buy is unknown at this point, but this is certainly good news for Sprint customers who have been looking on at their Verizon and AT&T neighbors with those green, envious eyes. Of course, nothing prevents Sprint customers from buying the Wi-Fi only variant, but if you want to be totally mobile with your new tablet, well, you are going to want LTE.
So Sprint customers, you can apparently relax, knowing that once Dan Hesse has figured out how to replace the LTE service
that he was counting on LightSquared for
, the new Apple iPad should be already collecting dust in Best Buy's warehouse just
waiting to be shipped right to you
.
source:
Engadget