Apple iPad 3 is announced
35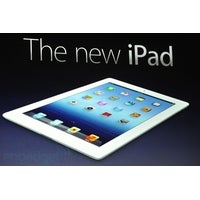 There you go, folks! As expected, the
latest and greatest iPad has just been officially announced
by Mr Tim Cook himself. The newest iteration of Apple's iconic tablet is here to win your heart with its sleek looks, high resolution Retina Display, enhanced hardware, and broad catalogue of applications. And strangely, it is not called the iPad 3, or the iPad HD, but it is simply referred to as the new iPad.
So, what goodies does the new iPad bring? Well, to start, it now has a screen with the amazing resolution of 2048 by 1536 pixels - worthy of being called a
Retina Display
. After applying a little math skills, we get the amazing
pixel
density of 264ppi, meaning that fine text will look nice and sharp, while those HD movies will look better than ever. Also, the display delivers 44% better color saturation over its predecessor. No wonder Apple dares to call it the greatest mobile display to date.
But there is a huge improvement under the hood as well. The
new iPad comes with an A5X processor
(A5 on steroids, if you will), which now packs a quad-core graphics processing unit. According to Apple, the A5X processor offers
"four times the performance"
when compared to a Tegra 3 chip.
A camera upgrade was another thing that we were expecting to see, and sure enough, our expectations were met. The new iPad boasts an iSight camera, as Apple calls it, with a
5-megapixel back-illuminated sensor
and a 5-element lens system. And in case you are wondering, yes, it can capture video at 1080p.
Oh, did we mention that the new iPad now has LTE? Yes, you read that correctly. Apple's latest and greatest tablet now rides on LTE airwaves and can reach peak download speeds of 73Mbps. Wow! Both Verizon and AT&T will be getting iPad models with LTE, an so will Canadian carriers Bell, Rogers, and Telus.
Fortunately, all these new features would not affect the iPad's solid battery life. Just like its predecessor, the new iPad will last for 10 hours on a single charge. And if you use 4G LTE, the battery should still last for 9 hours, which is a respectable figure indeed.
In terms of design, the new iPad does not seem to be much different from its predecessor. It even holds on to the hardware home button, which rumors claimed would be removed in favor of a capacitive one. As before, you can have it in either black or white.
So, planning on getting one already? If you prefer a non-LTE model, a 16-gig iPad will cost you $499. 32- and 64-gigabyte models will also be available for $599 and $699 respectively. But if you want to take advantage of 4G LTE, then we are looking at $629 for a 16-gig, $729 for a 32-gig, and $829 for a 64-gig model. Sorry, folks, no 128 gigabyte iPad just yet. The new iPad will be available for purchase in the U.S., Canada, the U. K., France, Germany, Switzerland, Japan, Hong Kong, Singapore, and Australia starting March 16, and if you desperately want one, pre-orders start as soon as today. 26 additional countries will follow suit on March 23.