Best Apple Watch bands that aren't made by Apple (2017)
3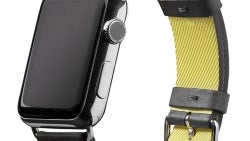 If you are shopping Apple Watch bands, you are spoiled for choice! We pinned down ten of the finest specimens you can buy in the $20 to $100 price category. Anything higher than that and we must suggest consulting your financial adviser before putting down cash. It's a freaking wristband, it's supposed to keep your watch strapped and soak up sweat! How much does it have to cost?! But then again, you choose what goes on your wrist and where the money goes so hey, no judging.
Most of these bands are set up for the 42mm
Apple Watch
, though, so owners of 38mm models may have to look extra hard, or simply shop Apple's somewhat expensive (but high-quality) wristbands. On the upside, these will cover both Series 1 and 2 smartwatches, so no one's left out in the cold. Enjoy the selection!
ALSO READ