Behind the scenes at the filming of the Microsoft Surface Pro 3 ad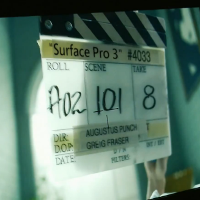 Have you seen the ad for the
Microsoft Surface Pro 3
? This is the spot that starts with the voice over announcer asking, "
How can a tablet replace your laptop?
" The ad shows how the Microsoft Surface Pro 3 is at home in every situation. The tablet starts the day as an alarm clock, and quickly becomes a note pad in a taxi cab. Then, it is on to the local coffee shop, where the tablet is used to show off some pictures. Next stop is the office, where the tablet is employed to handle some serious number crunching. It's all in a day's work for the 12 inch slate.
The video below will show you the ad in its entirety. First though, it shows you how the ad was done with no edits, to represent how seamlessly the Surface Pro 3 goes from one task to another. Since the video was filmed with no edits, everything had to be done perfectly. One screw-up would ruin a take. With so many moving parts, it took at least 45 takes to get it right.
Finally, everything came together and the result is the ad, which you might have seen on television. All of that work for a 30 second commercial.
source:
MicrosoftSurface
via
WPCentral