Ballmer pegs the homebrew Surface tablets in the $300-$800 price range, talks Windows Phone 8
11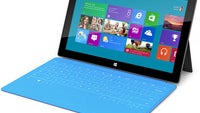 In his interview for the Seattle Times, where
Steve Ballmer dispelled the notion that the Surface tablets will be the "cheaper option"
among Win RT/8 slates, he also gave up the supposed price range they are expected to appear in.
Ballmer mentioned the Surface tablets will be $300-$800, depending on the configuration, so we'd assume that a 16GB
Surface RT
will start off at $300, and the Intel-based Surface with full Win 8 and the highest amount of internal memory will sport a price tag of $799 or so. "
If you look at the bulk of the PC market, it would run between, say, probably $300 to about $700 or $800. That's the sweet spot
", said Microsoft's CEO.
In the same interview he was asked about WIndows Phone 8, and he acknowledged that Microsoft is small fish in the smartphone game still, but that with the new edition the hardware has already caught up, and the tight integration with the world's most popular operating system will pay off in the longer run handsomely:
Q: Can you share some of the broader story you want to tell when Windows Phone 8 rolls out?

A: New phones. With great new software. (Laughs and pulls out from his pocket a pair of Nokia Lumia 920 Windows Phones.)

We've got a big challenge in front of us. We're a very small player, but we have a different point of view in terms of user experience. We've got great cloud integration with the rest of the Microsoft world, which a lot of people participate in.

So I think our point of view on user interface, the great work that our hardware vendors are doing and the integration with Windows should help ratchet us up.

Q: Where do you see Microsoft's position in five years, 10 years?

A: First of all, I'd say: pre-eminent technology company. I think that in a back-looking view, people would say we were a software company. That's kind of how we were born.

I think when you look forward, our core capability will be software, (but) you'll probably think of us more as a devices-and-services company. Which is a little different. Software powers devices and software powers these cloud services, but it's a different form of delivery....

Doesn't mean we have to make every device. I don't want you to leap to that conclusion. We'll have partners who make devices with our software in it and our services built in. ... We're going to be a leader at that.
An interesting take from the above quote is that Ballmer sees Microsoft as more of a device-and-services company in the furture, rather than a pure software player. Even though he was quick to say "
doesn't mean we have to make every device
", those persistent rumors
MS might make a Surface phone
at some point could have legs going forward.
Recommended Stories