BLU settles with FTC, agrees not to misrepresent the security of its phones
7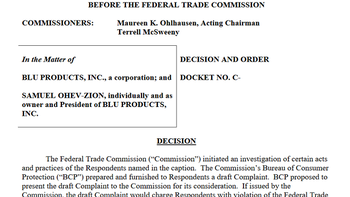 Back in November 2016, we told you about a story in
The New York Times
that claimed
certain Android phones were sending users' personal data to servers in China
. The software, created by Shanghai Adups Technology Company, is on hundreds of millions of active Android handsets. Among the manufacturers whose phones had this software installed were two firms that shouldn't surprise you in 2018, Huawei and ZTE. But a third manufacturer is one that you might have never heard of, and is actually located in Miami, Florida. The name of that company is BLU Products.
BLU co-owner and CEO Samuel Ohev-Zion said back in 2016 that he didn't know that the Adups software was on his company's phones (which we have to admit is hard to believe). His claim that the software was removed from all BLU handsets can also be met by a healthy dose of skepticism since it was
discovered on BLU models as recently as last July
.
Last week, the FTC announced that it had reached a settlement with BLU Products and Ohev-Zion. As part of the deal, "BLU must implement a comprehensive data security program to help prevent unauthorized access of consumers' personal information and address security risks related to BLU phones." According to the press release issued by the regulatory agency dated April 30th, the Adups software that was on BLU's handsets collected complete text messages, real-time location data, call and text message logs with phone numbers included, contact lists and the name of apps loaded on BLU devices.
The FTC notes that BLU allowed the Adups software to remain on older models (even after the company claimed to have removed it from all of its handsets). The agency said that as a result, the company allowed the spyware to continue to collect data as it failed to use "adequate oversight." BLU will be subject to a third party assessment of its security program every other year for a total of twenty years. The company's record keeping and compliance monitoring will also face increased scrutiny.
"Under the proposed settlement with the FTC, BLU and Ohev-Zion are prohibited from misrepresenting the extent to which they protect the privacy and security of personal information and must implement and maintain a comprehensive security program that addresses security risks associated with new and existing mobile devices and protects consumer information. In addition, BLU will be subject to third-party assessments of its security program every two years for 20 years as well as record keeping and compliance monitoring requirements."-FTC
Even with the FTC settlement, it might be a cold day in Miami before anyone feels safe using a BLU phone.
source:
FTC