BBM for iOS and BBM for Android will not be launching this week; no new release date mentioned
20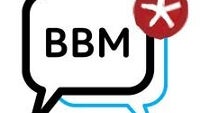 With other things on their mind,
like a $4.7 billion buyout of the company
, BlackBerry did manage to address the embarrassment that was the
failed launch of BBM for Android and BBM for iOS
this past weekend. Part of the difficulty in launching the app in the Google Play Store was the number of bogus apps that popped up. Some had incorrectly used Blackberry as the company name (correct style is BlackBerry) and these apps delivered older versions of BBM to unsuspecting Android users.
The bogus apps "
resulted in volumes of data traffic orders of magnitude higher than normal for each active user and impacted the system in abnormal ways
." While 1.1 million legitimate downloads were made of BBM, BlackBerry decided to halt the rollout and pull the app from both platforms.
BBM's top dude at Waterloo, Andrew Bocking, said that getting the app distributed is not simple. He says that it "
will take some time and I do not anticipate launching this week
." You can check out the complete statement from BlackBerry below. As for disappointed iOS and Android users, you guys have gone years without BBM so a little patience is in order here.

"Hi Android and iPhone users,

This is Andrew Bocking, head of BBM at BlackBerry. As a follow up to our first blog post on Saturday, I want to take a moment to provide you with an update on the rollout of BBM on Android and iPhone.

Last week, an unreleased, older version of the BBM for Android app was posted on numerous file sharing sites. We were aware of an issue with this unreleased version of the BBM for Android app. This older version resulted in volumes of data traffic orders of magnitude higher than normal for each active user and impacted the system in abnormal ways. The version we were planning to release on Saturday addressed these issues, however we could not block users of the unreleased version if we went ahead with the launch.

We attempted to address the problems caused by the unreleased version throughout the day on Saturday, but as active users of the unreleased app neared a million – and accelerated – it became clear that the only way to address the issue was to pause the rollout for both Android and iPhone.

The team is now focused on adjusting the system to completely block this unreleased version of the Android app when we go live with the official BBM for Android app. We are also making sure that the system is reinforced to handle this kind of scenario in the future. While this may sound like a simple task – it's not. This will take some time and I do not anticipate launching this week.

Thank you for your patience while we take the time needed to deliver the experience you expect from BBM. We will continue to provide you with updates here on InsideBlackBerry.com and through @BBM on Twitter. We will notify everyone who has pre-registered on BBM.com when BBM is available on Android and iPhone."-Andrew Bocking, EVP, BBM
source:
BlackBerry