BBM for Android and BBM for iOS to be released today
19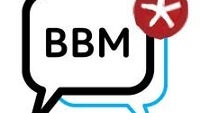 About
a month after the first attempt failed
, BlackBerry is planning on trying once again to get BBM for iOS and BBM for Android available for users of those two platforms. On Monday, BlackBerry crowed about the 1.1 million Android users that installed an unreleased version of the app back in September. It was that unofficial version, along with a number of bogus BBM apps put up in the Google Play Store, that made BlackBerry's task too difficult to complete at the time. Meanwhile, more than 1 million Apple iPhone users have sideloaded BBM on their phone.
According to the beleaguered Canadian manufacturer, the best way to download BBM on your iOS or Android phone is to visit BBM.com from your iPhone or Android browser. Install the app, enter your email address and BlackBerry will send you a message when you are at the "front of the line" and can use BBM. You can follow the line at @BBM on Twitter If you already signed up with BBM.com, you can start using BBM immediately.
BlackBerry says its developers have been working around the clock and made some upgrades to BBM during the past month. This is a great idea from BlackBerry because instead of going to your phone's app store and putting up with a number of bogus BBM apps, you are going straight to BlackBerry to install it.
We should point out that the app will still be available within hours, from the Apple App Store and Google Play Store.
source: BlackBerry
UPDATE: BBM for Android is now available from the Google Play Store and