BBM Music Hands-on
3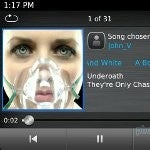 In addition to supporting their new line of handsets, RIM is taking the task of competing in the music streaming service as well. Rather than following in the same footsteps as other services, like Google Music or Zune Pass, RIM's offering with
BBM Music
is more conscious about being driven by its social aspects. As its name implies, RIM's very own popular BlackBerry Messenger service is integrated with the new music service. However, it's currently in
limited beta testing
and will hopefully go live to all BlackBerry users out there by the end of the year – with your commitment to a
$5 per month subscription
.
Running the app on a BlackBerry Bold 9900, the interface is broken down to 4 distinct tabs that you can easily access at the very top – these include home, your profile, your connections, and the album store. Overall, it's nice being able to tell your BBM friends what songs you've recently added, but it's a shame that other services aren't supported out of the gate. Despite that, we're hoping to see future updates bringing along support for things like Twitter, MySpace, and Facebook. Still, it's nice being able to post comments on specific songs that BBM friends have added to their profile.
Currently, you're limited to adding
50 songs
total from their available catalog. And even though they might not have that expansive library of songs, it's nevertheless nice to see some popular ones available. Before adding one, you can preview a
30 second sample
to save yourself from having to use up one of your available 50. In terms of quality with the songs being streamed, we're impressed to find it very clear and distinctive in tone. Also, there's an option of being able to
cache songs
to a microSD card, which is undoubtedly helpful in the event that you're out of an area with sufficient coverage.
Naturally, there's a lot of potential with BBM Music, but it really needs to branch out a little more outside some of RIM's core services to gain momentum. Seeing that
this is still in beta
, we're forgiving with the available song selections and functionality, but it'll be interesting to see how they step things up before it's officially available to the masses. Impressively, that $5 per month subscription fee is indeed competitive compared to the competition.