Awesome remote desktop apps for Android and iPhone that let you control your computer from anywhere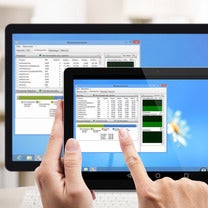 Have you ever wanted to control your computer's media player application without having to leave the comfort of your couch? Or have you ever needed to access a document or an application on your computer while away from it? Sure you have, and you're not alone. But these are the kind of cases remote desktop applications are made for, and with the help of one, you'll never get caught unprepared.
In the slideshow below you'll find some of the best remote desktop and remote control applications available on mobile devices. Some are made specifically to let you access your computer's desktop from any point of the world, be it over a local connection or over the internet. Others are designed to emulate your PC's mouse and keyboard, allowing you to control your computer from across the room. Then there are the remote control apps built with multimedia in mind. These can control your Media Player, Hulu, or Spotify application remotely for your convenience. Neat, huh? Check out these awesome remote desktop and control applications and let us know which one you like best.
Awesome remote desktop and control apps for Android and iOS