Awesome new Quad HD and 1080p wallpapers for your smartphone (December 2014)
6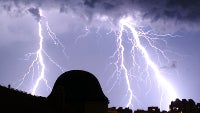 About a fortnight ago we thought it's about time we helped out all those poor souls who bought a phone with a gorgeous, pixel-dense Quad HD (1440 x 2560) resolution display but were unable to source fresh wallpapers that were actually in that resolution
and
aspect ratio.
You might think that finding such on the web shouldn't be much of a hassle, but you'd be wrong – while QHD walls are common, they're almost always intended for landscape use, not to mention that the many repositories for alleged 9:16 QHD-ready walls have collections largely made up by backgrounds that have been up-scaled from a lower resolution. In other words, you're getting the resolution you're looking for, but not the clarity of detail you crave. Which is why we put together
a collection with the official wallpapers
that come with the few QHD smartphones currently on the market.
This time around, however, we thought we'd make use of our vault of awesome images that
you
, our users, take with your smartphones, and then submit for us to rate and publish in our regular "10 images captured with smartphones" column. Regardless of your phone's resolution, the images below will work with most built-in Android launchers – with or without support for scroll-able wallpapers. Download and enjoy!
* To download a given wallpaper, just zoom into the image (double click or use the buttons on the bottom right) and right click > Save image as...
Recommended Stories
30+ Infinity Display wallpapers for phones with tall screens
50+ Beautiful high-res wallpapers, perfect for your LG G7, Galaxy S9, Pixel 2 XL, iPhone X, and others
50+ Awesome high-res wallpapers, perfect for your Galaxy S9, Pixel 2 XL, iPhone X, Huawei P20 Pro, and others
Beautiful, high-res smartphone wallpapers
Beautiful, dark wallpapers perfect for OLED smartphones
Expand timeline
Loading ...