Awesome icons lets you use icon packs with any stock or custom Android launcher, no root required
6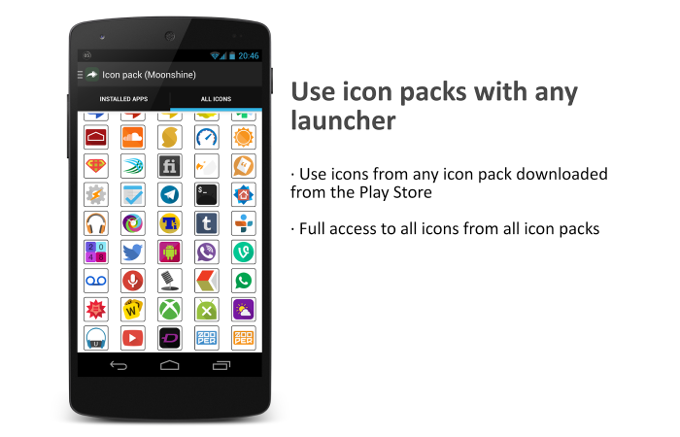 Developer:

Momo apps

Download:

Android

Category:

Personalization

Price:

Free
We are absolutely loving the fact that you can pick an icon pack of your own choice and apply it to your interface. That's a trait inherited from the Linux roots of Android, but the whole process has been made unnecessarily complicated - for example, very few stock launchers allow you to change icons and you need to get a third-party one.
Change any app's icon, no root required
This is where Awesome icons could come in useful: it's an interesting piece of customization-friendly piece of software that allows you to change the icons in your interface.
Although it's not as user-friendly as we'd like it to be, the app works just fine. How does it do its magic? Simple and elegant - instead of changing the actual app's icon, Awesome icons creates a new shortcut that employs the icon of your choice. The app does this for each app you decide to customize. Apart from custom icon packs, you can also use your own picture or even a photo you've just taken. Best part? No root or any additional tampering is required!
After you download Awesome icons and fire it up, you will notice that all of your apps are listed, with different icon variants for each app. It is up to you which ones should retain their default icons and which ones are getting an overhaul. Oh, and before you call us out that you've got no options for different app icons, make sure to open the Play Store and download a couple of nifty icon packs - we have provided a lot of neat recommendations right below!