AwSMS is a new text messaging app with heads-up notifying and avatar customizations
3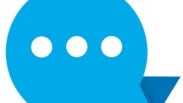 AwSMS is a new kid on the busy block of replacements for your usually annoying stock texting app that comes either with stock Android (Hangouts), or as part of a manufacturer overlay, like TouchWiz or Sense. The app features the trendy, flat and colorful look that is in sync with Google's Material Design guidelines. The app is still in beta, so there are still plenty of options coming down the pipeline, promise the developers.
One of the cooler features is the system that allows you to change the appearance of each contact, color-code their avatar, and change its size or title font. Avatar theming is only part of the AwSMS equation, though, as there are also night mode, group texts, notification snoozing, and quick replies, you name it - everything that makes a fine text messaging app.
The heads-up quick reply function is the one to focus on here, as the incoming messages would pop up as a small widget, allowing you to shoot a brief comeback immediately. Your contacts appear as pretty chatheads in a circle, as is the modern requirement, and there are thankfully no ads still. Give AwSMS a shot from the source link below, if it has piqued your interest.
| | |
| --- | --- |
| Developer: GHerm | Download: Android |
| Category: Communication | Price: Free |