Autodesk Scaleform will let game developers create cool mobile game UIs using Flash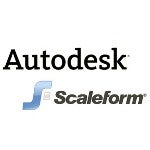 Autodesk has released a new tool for mobile game developers and it's called Scaleform. Like its desktop version, the mobile-centric Scaleform will help devs create some beautiful and immersive UIs and menus for their games just by using their Flash skills.
The product can help you develop games in three main ways. If you are using the Unity Engine, Scaleform comes as a Unity plug-in so it should be a simple process to integrate it into your workflow. Secondly, the Scaleform SDK can be integrated into a third-party or proprietary mobile game or app engine, again letting you craft some fancy UI. Finally, there's also a standalone development platform which should make it easy for you to produce your own 2D mobile games, utilizing the power of Flash, ActionScript 3 and... some C++ for game logic, as the press-release states. However, we guess that if you don't need your game to have any logic, you can do just fine without C++, but then again, if you actually have serious intentions of entering that business, you better stop listening to us right now.
Just one more thing, though - Adobe Scaleform for mobile is currently available at a price of $299 per OS. The OS's that Scaleform can be used with are iOS and Android.
source: Adobe
Autodesk Scaleform for Unity Engine and Mobile Game Development Now Available
A Leading User Interface Solution Now Offers Standalone Mobile Platform and Unity Plug-in at Affordable Price
SAN RAFAEL, Calif., July 10, 2012 - Autodesk Inc., (NASDAQ: ADSK) has introduced new versions of Autodesk Scaleform user interface (UI) middleware for mobile game development, offering an Adobe Flash-based gaming and application platform, as well as a new Unity game engine plug-in.
Scaleform has helped game developers create immersive UI for at least 1,000 triple-A titles, such as "Gears of War," "Crysis 2" and "Deus Ex: Human Revolution." The new, affordable releases make this powerful technology accessible to developers creating iOS and Android platform games or apps with tighter production budgets.
"These new versions of Scaleform were released to address growing interest from outside of the triple-A games market. Inspired by innovative use cases of the technology, we first expanded the middleware's mobile game toolsets and tutorials, and are now making Scaleform accessible to more developers," said Marc Petit, Autodesk senior vice president, Media & Entertainment.
Developing Games and Apps with Autodesk Scaleform Middleware
Autodesk Scaleform leverages the power of the Adobe Flash toolset and provides streamlined, artist-driven workflows that help developers create UI environments and full 2D games more quickly. There are three methods to develop mobile games and apps with the new releases of Scaleform:
• Unity Game Engine: Scaleform middleware's new Unity plug-in provides an out-of-the-box integration that allows Unity developers to create triple-A quality game UI and menu screens using Flash. This integration is designed to work as a native plug-in to the Unity engine and requires no C++ programming.
• Third-Party and Mobile Engine: The Scaleform software development kit (SDK) is supported by extensive documentation and can be easily integrated into a variety of third-party and proprietary mobile engines, to help developers create triple-A quality UI and menus more quickly.
• Standalone Development Platform: Scaleform middleware's cross-platform, highly optimized Flash playback capabilities make it an ideal standalone solution for developing games and applications for iOS and Android devices. Additional product highlights are: rapid deployment of Flash content, ActionScript 3 and C++ programming for game logic, and a small memory footprint.
Learn More About Mobile Game Development with Autodesk Scaleform Middleware
For more information or to register for a webinar on Scaleform for mobile game development visit the Autodesk Gameware website (http://gameware.autodesk.com). Also connect with the Scaleform development community at the Game Developer Zone on AREA, or view demo videos of the product at the Autodesk Gameware YouTube site (http://www.youtube.com/autodeskgameware).
Pricing & Availability
Autodesk Scaleform can be licensed as a Unity Engine plug-in or as a mobile SDK for US$295 per platform, per seat.* The products are currently available in select countries on the Autodesk eStore.
For more license information visit the Autodesk Gameware website.
About Autodesk
Autodesk, Inc. is a leader in 3D design, engineering and entertainment software. Customers across the manufacturing, architecture, building, construction, and media and entertainment industries – including the last 17 Academy Award winners for Best Visual Effects -- use Autodesk software to design, visualize and simulate their ideas. Since its introduction of AutoCAD software in 1982, Autodesk continues to develop the broadest portfolio of state-of-the-art software for global markets. For additional information about Autodesk, visit www.autodesk.com .
*International pricing may vary.
Autodesk, AutoCAD, and Scaleform are registered trademarks or trademarks of Autodesk, Inc., and/or its subsidiaries and/or affiliates in the USA and/or other countries. Academy Award is a registered trademark of the Academy of Motion Picture Arts and Sciences. All other brand names, product names, or trademarks belong to their respective holders. Autodesk reserves the right to alter product and service offerings, and specifications and pricing at any time without notice, and is not responsible for typographical or graphical errors that may appear in this document.
© 2012 Autodesk, Inc. All rights reserved.