Asus Transformer Prime unboxing
15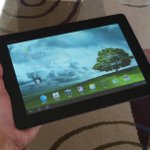 All that we can say at this point is finally! We've managed to secure our review unit of the highly spec'd
Asus Transformer Prime
, along with its very useful and expansive keyboard dock, which of course turns the typical slate tablet into a convertible style ultraportable. Perhaps it's the allure of its
solid industrial design
that wraps consumers into its hypnotic gaze, or
rather
, it could simply be the fact that it's the first tablet to market to pack along that truly
next-generation quad-core processor
.
We've spent a short time with the
Asus Transformer Prime during CES
, though, we have to admit, the busy nature of the entire event kept us from appreciating the all-encompassing aura of the tablet. Well folks, now that it's in our hands, we're dying to find out what the talk is all about regarding this top-notch Honeycomb…err…Ice Cream Sandwich powered tablet! As usual, the first thing to capture our attention is the meticulous design that Asus sought out with it, and in fact, we admit dearly that we're smitten by it. Not only is it fashionably chic with its
8.3mm thin profile
, but it's also solidly constructed to embody the elements of a
premium device
.
Packaging wise, we're instantly given a sneak peek into the razor thin construction of the Transformer Prime, which is in thanks part to the profile shot of the tablet seen on the front side of the box. Out of the box, it's running Honeycomb, but as soon as it establishes a data connection, we're asked to install the latest update – thus, moving it up to
Android 4.0.3 Ice Cream Sandwich
– so no wait whatsoever. For its asking price of
$499.99
, there's nothing extraordinary included with the tablet, especially when it consists of the normal set of documentation, wall charger, and proprietary USB cable. However, Asus throws in a
cleaning cloth
, which isn't much per se, but something that you don't tend to see – and it's specified to be used for wiping down both the display and metallic casing of the tablet.
No doubt we're curious to see what this tablet is all about, especially when it's dripping from head to toe with some exciting specs – like its 10.1" WXGA (1280 x 800) Super IPS+ display,
quad-core NVIDIA Tegra 3 processor
, 1GB of RAM, and 8-megapixel auto-focus camera. Providing more functionality, the optional
$149.99 keyboard dock
not only doubles as a keyboard, but rather, it's also an extra battery pack in itself. Honestly, the docked Asus Transformer Prime looks wonderful and is held tightly on with no worries of it coming off by accident – especially when you need to slide the latch to disengage it. We're itching to spend more time with this baby, so we'll surely be putting it through some rigorous testing to see where it stands amongst the great tablets out there. Expect our in-depth review soon!