Asus Transformer Prime hands-on
11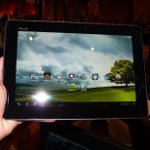 By now, the reign of the
Asus Transformer Prime
is in full steam ahead mode, as it finally brings us into the age of quad-core devices. Powered by the
NVIDIA Tegra 3 quad-core processor
coupled with 1GB of RAM, this beastly tablet isn't messing around when it comes to raw power, because seriously, it'll run most things effortlessly.
Adorned with some serious hardware over what was found with the Asus Eee Pad Transformer from not too long ago, the Transformer Prime has been treated to some visual flare with its design. Specifically, it's been outfitted with a
shiny metallic back cover
that provides a sense of strength and durability to the tablet, but at the same time, it's wickedly prone to smudging very easily. With its choice of materials, there's a
noticeable amount of weight
accompanying this 10.1-inch tablet, which easily tires our arm after a short workout consisting of simply holding the tablet with one hand.
Another strong aspect about the tablet, amongst other things, is its lovely looking
10.1 Super IPS+ display with Gorilla Glass
. Not only does its 1280 x 800 resolution dishes up some sharp looking details, but it's further complemented by its wide-viewing angles, neutral color production, and piercing brightness output. So yeah, it's a beauty that will literally cause you to involuntarily shield your eyes for a moment since it's so radiant.
Right now, it's sporting the Honeycomb experience, which is stated to be outfitted by none other than Ice Cream Sandwich in the coming days. However, the Asus Transformer Prime runs astoundingly flawless in our quick look – possibly making it the most responsive Android based device we've had the pleasure to check out. Nonetheless, it'll be interesting how it'll translate over when it's blessed with Ice Cream Sandwich. Seriously though, the NVIDIA Tegra 3 quad-core processor absolutely shows why it's possibly the best thing out right now.