Asphalt 8: Airborne is coming 'very soon' and new teaser is out (video)
22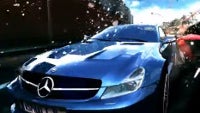 Asphalt is a legendary racing franchise and
Asphalt 8: Airborne
promises to live up to the name with jaw-dropping console-grade graphics and adrenaline boosting gameplay. Developer Gameloft has just released a new teaser video for Asphalt 8 saying the game is now coming 'very soon'.
Teh new Asphalt is 'airborne' because of platforms, rocks and other constructions in tracks that
you can jump on to lift your car in the air
. Stunts in the air look amazing.
Most impressive to us, though, are the
even better graphics
that - we can safely say - reach near console grade quality. The new Asphalt 8 will be optimized to run on the new Nexus 7 with its amazing 1920 x 1200 'Retina' display.
The racing game comes with a brand
new realistic physics engine
, a whopping 180 events, 47 cars and new game modes. Asphalt 8: Airborne supports simultaneous online multiplayer, but you can also race friends in asynchronous challenges, and all of that is tracked in leaderboards.
source:
Gameloft
Recommended Stories