Are these the first images of the Nexus Tablet?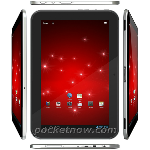 UPDATE:
It's most likely a production version of the
Toshiba AT270 7-incher
, so the_s2 earns reward points for being observant.
So a new render has leaked out for some sort of Android tablet, but no one is quite sure what device this could be. However, there are a couple of key clues that point to the idea that it may be the upcoming Nexus tablet. Of course, in general it doesn't seem very likely that this is the Nexus tablet.
It wouldn't be out of the question for Google to ask for design changes to the MeMO, especially to add the various ports we see in the render, but this render looks quite a bit more like the
7.7" Toshiba tablet
that we saw at CES than any Asus device. If it is a fake, it's a fairly well done fake, but it doesn't really add up for us. We'd certainly like a Nexus tablet that looks like this, but we're not sold that this is it.