Are Apple and Verizon outsourcing more call center support in advance of a Big Red branded Apple iPhone launch?
28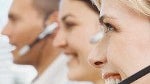 Are Apple and/or Verizon expecting a flood of phone calls for some reason? Two telecommunication companies, Ryla and Teleperformance are hiring hundreds of new phone agents for a cellular company that wishes to be anonymous, in states such as California, Georgia, Ohio, South Carolina, Texas and Utah. Both companies offer outsourced call centers and both Apple and Verizon have used Teleperformance before.
If the hiring has to do with the launch of a Verizon branded Apple iPhone, the local media in the area seem to be on target. The Fresno Bee reported that the hiring by Ryla in Clovis, California is for a Fortune 50 cellular company hoping to "increase its marketing and sales." That could describe Apple, seeking to fight back against the oncoming rush of Android. The Augusta Chronicle's story hinted that those hired by Teleperformance are to start work in late November. Throw in the 3-4 weeks necessary for training in the industry, consider the days off for the holidays, and it takes you to early January-a period of time that has been speculated to be when a Big Red branded Apple iPhone would be available.
source:
electronista