Windows Phone's "Cortana" to compete with Siri and Google Now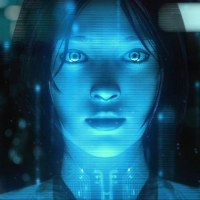 Talk of Microsoft and its ambitiousplans for a digital assistant that will rival iOS' Siri and Android'sGoogle Now is not something new. Quite the opposite, actually, we'vebeen getting hints, on and off, since 2011. The reason for the delayis that the software giant wants to hold off rushing into the space –Microsoftwants it to be truly revolutionary. Of course, a statement likethat does sound better than admitting that the idea has been riddledwith numerous delays and reiterations of the software, but we'll have to wait to see which one it is.
Luckily for Windows Phone fanciers, thecurrent status-quo is, reportedly, about to change, and soon.According to ZDNet, among others, Microsoft's Siri-like assistantwill be called Cortana, the AI you're sure to remember if you haveplayed Halo. The first few clues left behind by Microsoft werediscovered in a Nokia Lumia 920, bought off eBay, which for somereason ran on a developer build of Windows Phone 8.1. Said build hada 'zCortanaApp' loaded, where the 'z' in front indicates that it's anearly experimental version.
According to ZDNet's Mary Foley,Cortana will be at the core of a new "service-enabled shell" forMicrosoft platforms, something that then CEO Steve Ballmer talked about inhis Julymemo on Microsoft's reorganization. The idea is that Microsoftwants Cortana to do more than simply what we've come to expect from virtualassistants:
"
Our UI will be deeply personalized, based on the advanced, almost magical, intelligence in our cloud that learns more and more over time about people and the world. Our shell will natively support all of our essential services, and will be great at responding seamlessly to what people ask for, and even anticipating what they need before they ask for it
."
Ambitious. That is, if Cortanaactually makes the cut and, indeed, makes an appearance in GDR3– the next major WP update.
Early version of Cortana