Apple's stock rallies on news of probable Apple iPad mini event
21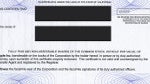 Shortly after the launch of the
Apple iPhone 5
, Apple shares peaked on September 21st at $705.07. The stock then proceeded to tumble 11.5%, hitting a bottom of $623.85 on Monday. On Tuesday, after
word spread that the Cupertino based tech titan would be holding an event on October 23rd
, the stock
popped $15.03
to close just shy of $650. While Apple did not come right out and say so, it is expected that the long awaited Apple iPad mini will be introduced at the event. Apple did hint at the subject of the gala when it wrote, "We've got a little more to show you" on the invitation.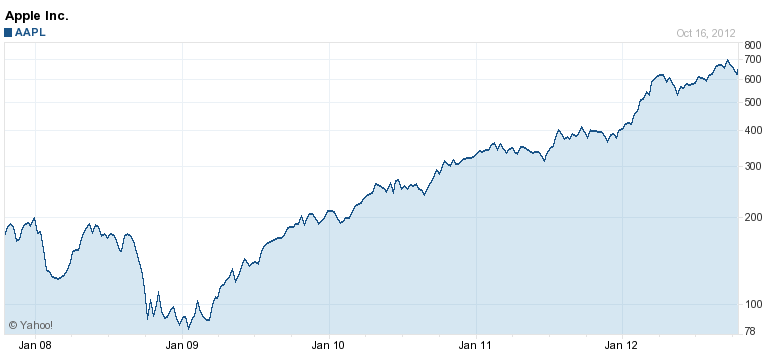 It has been a great 5 years for Apple stockholders
Apple hopes to compete in the fairly new category of low priced 7 inch tablets that consists of the
Amazon Kindle Fire HD
and the 8GB
Google Nexus 7
. Both of those devices are priced at $199. Last holiday season, the
OG Amazon Kindle Fire outsold the Apple iPad 2
, which was the latest Apple tablet at the time. While rumors of a 7.85 Apple iPad mini date back to before last December, the experience might have been the straw that broke the camel's back. During the recent Apple vs. Samsung patent battle,
an email was discovered from January 2011
referring to a story in GigaOm called "Why I just dumped the iPad (Hint: Size Matters)". In the email, Eddy Cue, who was head of Apple's Internet software and services at the time, told other Apple execs that Steve Jobs was
warming up to the idea of a 7 inch iPad
prior to his passing. That was quite a change as Jobs had said in October 2010 that after extensive testing,
it was decided that Apple would never produce a 7 inch tablet
. One of Jobs' reasons was his belief that a 7 inch tablet could not support great apps.
Apple's stock might have moved too soon. The most important information about the alleged Apple iPad mini, the price, needs to be disclosed. If Apple brings the price to the $200 level to compete with Amazon and Google, Apple will not make any money or will lose money on the device. At $199, Amazon breaks even on the the new Amazon Kindle Fire HD. Analysts say that a price in the range of
$299 to $349
is needed to keep the margins the same as with the larger iPad models. And with Apple's stock as sensitive as it is right now, this could be an inflection point. Price the iPad mini too low and the stock could undergo some long needed profit taking to get the weak holders out of the stock. The company
is the most valuable firm in the world
but nothing grows to the sky forever. For Tuesday, at least, the Apple iPad mini saved the day for stockholders, many of whom are beginning to get nervous.
source:
SlashGear