Apple's injunction against the Samsung Galaxy Tab 10.1 in Germany might be circumvented, but at a cost
6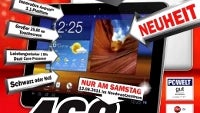 For all the brouhaha about the court bans induced by Apple on Samsung's products in Europe, it turns out that they might be easily circumvented, at least ze German one.
The Regional Court of Dusseldorf upheld its
injunction against the Samsung Galaxy Tab 10.1
, due to alleged
Community Design infringements
on Apple's iPad, but the marketing and sales ban on Samsung's newest 10-incher is
only valid for Samsung Germany
.
Big retailers like Media Markt still have the right to sell the inventory that currently sits on the shelves and in the warehouses, and then they probably can restock, but not from Samsung Germany. The Korean, Dutch, or any other office can send shipments to their stores, and pro forma these shouldn't be under any veto.
Apple could argue that Samsung violated the terms of the ban, though, and its tablets are still sitting on the shelves at German retailers. Then again, the stores might buy in bulk from somewhere else, like an independent third party wholesaler in another country, which, however, might make it prohibitive to score a profit.
The bigger issue is if
the injunction against Samsung in the Netherlands
holds water, since most of the company's EU logistics is based there, and it will have to rewire its whole European supply chain if it wants to sell allegedly-Apple-patent-infringing products. It is going to be interesting to watch how Samsung plays this one out.
source:
OSNews
&
FOSSPatents