Report shows that U.S. consumers preferred old school music formats last year
5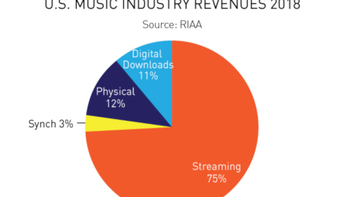 A fresh report from the Recording Industry Association of America
(via
BGR
) reveals that last year, more money was spent on vinyl records and CDs in the U.S. than on digital downloads from iTunes and others. Music in physical formats accounted for U.S. sales of $1.15 billion last year, down 22.8% from 2017. Downloaded songs generated a little over $1 billion in revenue in 2018, split almost 50-50 between singles and albums. That was a 26% decline from the previous year.
Meanwhile, revenue from streaming music platforms like Spotify, Apple Music and Tidal hit $7.4 billion in 2018, up 30% year-over-year. Streaming accounted for 75% of the revenue collected from selling music in the states last year. Physical formats had a 12% share of music industry revenue in 2018 compared to the 11% for digital downloads. Streaming services have seen a huge jump in revenue over the years, rising from the $2.3 billion received in 2015.
The world's most popular music streaming service, Spotify, has yet to turn a profit since launching in October 2008. The company is trying to move the large number of subscribers it has listening free on its ad-supported tier to a monthly subscription. The numbers explain why. While revenue for ad-supported music streaming in the U.S. rose 15% to $760 million in 2018, paid subscriptions accounted for $4.7 billion in gross, a 33% jump from 2017. Overall, there are 50.2 million Americans paying a monthly subscription fee to a music streaming platform. Over one million new paying subscribers were added during each month in 2018.