Apple's iPhone loss is Verizon and AT&T's gain, and carrier subsidies are to blame
This article may contain personal views and opinion from the author.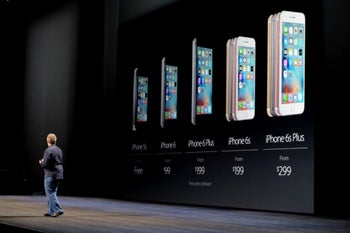 Those were the days, but users upgrading from an iPhone 6 to 7, are in for a sticker shock, admits Tim Cook.
Apple will be fine. Despite the unprecedented
15% drop in iPhone sales
, its $19.97 billion net income is just shy of the record-setting $20.07 billion a year ago. Apple's cash pile grew to $245 billion, and the installed user base of iOS devices grew to 1.4 billion, paving the way for future increases in the already record-breaking services revenue which has the highest gross margins out of all of Apple's business segments.
On the surface, even the high iPhone prices seem to have simply added to the market share expansion of premium phones which went up 18% last year, according to
Counterpoint
.
Still, the top revenue number was less than analysts expected at the beginning of this past quarter and in line with Apple's unprecedented sales warning earlier this month. The net income, on the other hand, while the second-highest on record in Apple's history, saw a big boost from lowering the effective tax rate Apple pays. It went from 26% a year ago, to 16.5% now, thanks to the Republican Tax Cuts and Jobs Act of 2017, adding more than $2 billion to Apple's profits to compensate for the drop in iPhone sales.
The Chief Financial Officer and the CEO Tim Cook himself listed numerous reasons for the perfect storm that is facing the industry, and iPhone revenue in particular - the White House trade wars and the resulting slowdown, US dollar strength that made iPhones prohibitively expensive in major markets, and even the mobile games ban in China that saw services revenue drop precipitously there.
What caught our attention, though, is that Apple's CEO Tim Cook went way back to list the demise of US carrier subsidies as another reason for the tepid sales of Apple's bread-and-butter signature product.

If you're a customer that your last purchase was a 6S or a 6 or in some cases even a 7, you may have paid 199 dollars for it, and now the unbundled world it's obviously much more than that.

While that happened a few years back, he has a point, as, thanks to the
low-cost battery swaps
people are now clinging to their iPhones longer, and are in for a sticker shock when they see the new pricing.
Herein lies the crux of the matter. Throughout the most part of its existence as a product, the iPhone sales had a crutch in the form of carrier subsidies in its largest, most visible market of North America, but also in China and other places. It's no coincidence that the US is the country with the highest iOS adoption rate, where half of smartphone users are rocking iPhones. In markets where carriers aren't subsidizing iPhones, Android handsets have been decimating Apple's finest for a while now when it comes to market share.
We plotted the profit margins of the two largest US carriers - Verizon and AT&T - against Apple's sales to gauge if indeed some of the missed profit opportunities for the iPhone maker went straight into carriers' pockets.
The biggest Chinese carriers also started scaling on their iPhone subsidies way back in 2015, and the resulting switch to local value-for-money Android brands wasn't far behind. As usual in the local command economy, it was a mandated effort to favor domestic products, thinly veiled as a government request that Chinese carriers cut their marketing budgets by 20%.
Beijing knew that would mean demolishing expensive phone subsidies given to the likes of Apple and Samsung's S- or Note lines. Before the move, $500+ handsets like the iPhone held 27% market share in China, and now Samsung's market share is almost non-existent there, while
Apple's is greatly diminished
, despite the iPhone being a status symbol in Asia.
When carrier subsidies go, the iPhone goes, it seems, and Apple has little recourse to offset that but actually
lowering iPhone prices
, which it seems to be perfectly aware of, and is currently
doing in China and other places
, under the guise of "
currency fluctuation adjustments
."