Apple's Tim Cook reportedly in discussion with Samsung for AMOLED display in the iPad 3
53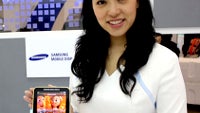 The Korea Herald cited "industry sources" yesterday, claiming that Apple's acting CEO Tim Cook took the plane last week, and met with Samsung to discuss using AMOLED displays in the
next iPad
.
Speaking on the condition of anonymity, the source said: "
Apple wants to tap into Samsung's AMOLED technology for an upgraded version of the iPad 2, considered by many as the iPad 3 that is likely to be launched toward the end of this year
". The source went on to clarify that Apple even offered
advance payment to secure production
, something that it usually does in scale, elbowing out the competition.
Well, we needn't say that this goes against everything we've heard so far.
Legal battles between Apple and Samsung
aside, we had the chief of the OLED Association Barry Young saying that
7" and larger AMOLED displays are not coming until much later this year
, when Samsung has sufficient capacity from its
new 5.5-Gen factory
, and that was before the Japanese quake devastation. And sufficient in the case of Apple will mean millions upon millions, whereas the factory will be able to make 48 000 substrates per month this year, rising to 100 000 in early 2012. Not to mention that we had Samsung itself confirm that it
won't be having a tablet with AMOLED display this year
.
Could it be that The Korea Herald source has meant Tim Cook wants in on a new LCD technology of Samsung, of which the Koreans recently
showed off a 10" 1600x2560 pixels prototype
? After all, the same newspaper wrote exactly that in February this year, saying that
Apple wants a PLS-LCD display from Samsung for an iPad 3 in the fall
.
If the previous rumor was from the same source, how did we arrive at this one for AMOLED displays for tablets now, given the scarce production capacity and reluctance of Samsung to lend the technology to anyone else, much less to what it
now considers its biggest competitor in the smartphone and tablet world
?
We'll file this rumor about Apple's elusive AMOLED iPad 3 in the "believe it when we see it" shelf, and stick with the more plausible scenario that Apple wants to equip the next iPad with something in the lines of the 1600x2560 pixels 10-incher of Samsung. Given Cupertino's recent troubles with
LG's inability to produce enough quality displays for the iPad 2
, a change of supplier is entirely possible.
Moreover, we know that Apple achieves its high operating margins by
prepaying for components on a larger than anyone scale
, thus lowballing the price, and squeezing suppliers' margins to the minimum. Samsung knows that very well, as it supplies a lot of components for Apple's products, and it would be surprising if it surrenders a technology that gives it unique advantages, like the AMOLED displays, of which it can't even produce enough for its own gadgets.
source:
TheKoreaHerald
via
SlashGear