Ultra high-resolution mobile displays to be showcased by Samsung and LG in Los Angeles next week
6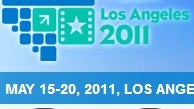 The Society for Information displays (SID) show is opening up on Monday in Los Angeles for the whole of next week. Both Korean rivals Samsung and LG will be there, and Samsung already issued a stunner press release that it will be demonstrating "Retina Display"-like 10.1" LCD screens with 300ppi, scheduled for production this year.
Samsung's baby is to sport the astonishing 2560x1600 pixels of WQXGA resolution, reached using the PenTile matrix of Nouvoyance, whose intellectual property Samsung bought in 2008. Before you scoff at the fact that it is using the PenTile matrix arrangement, it is not the RG-BG one for AMOLED displays, which
we compared yesterday with a Samsung Galaxy S II with a normal RGB stripe matrix
, and found to be inferior. From Samsung's press release:
"
- This 10.1-inch tablet panel is capable of 300 cd/m2 of luminance, yet uses 40 percent less power than that used by legacy RGB stripe LCDs in power-saving modes.
- An outdoor brightness mode of as much as 600 cd/m2 luminance enables viewing in bright ambient lighting.
- The display's color gamut is 72 percent., allowing greater color realism than legacy RGB stripe tablet displays that have a typical color gamut of 55 percent NTSC.
- PenTile technology achieves 300 dpi resolution with two-thirds the number of subpixels, maintaining the VESA/ICDM display resolution standard.
"
Let's put the numbers above in perspective. First off, Samsung touted the move to a normal stripe RGB matrix for the Super AMOLED Plus display in the Galaxy S II as an advantage over the PenTile RG-BG pixel arrangement in the Super AMOLED on the Samsung Galaxy S, citing that we now have 50% more subpixels per pixel than before.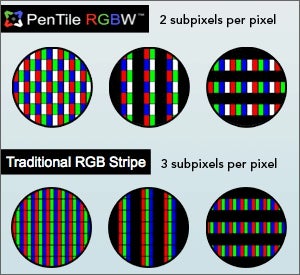 RGB vs RGBW circle chart
All of a sudden here the advantage seems to be back to PenTile that "
achieves 300 dpi resolution with two-thirds the number of subpixels
". We guess that's because this is the RGBW (for red-green-blue-white) arrangement for LCD displays with the PenTile matrix, similar to what we have on the Motorola ATRIX 4G's qHD display. Through clever arrangement of the subpixels, and introducing a white one, it is capable of rendering a black and white line with four linear columns of subpixels instead of the six needed with an RGB stripe matrix, therefore saving on 33% of the subpixels. Hence a big chunk of the
40% reduction in power consumption
compared to RGB stripe LCDs.
Even if in reality things don't appear as crisp, 2560x1600 will be more than enough pixels to significantly enhance the viewing quality over anything that's currently on the market. What's more interesting for us is the
increased brightness
. The Super AMOLED display at full swing shines with 365 nits, whereas Samsung claims 300 nits on this tablet display, and that's in power-saving mode, going all the way up to 600 nits in "
outdoor brightness mode
". For reference, Apple's iPhone 4 screen has been measured at peak brightness to show 541 nits, and the iPad 2 display peak brightness is measured at 410 nits. We have an
LG Optimus Black
in the office, which has
NOVA display
with 700 nits of brightness, and LG claims that's the human eye threshold for decent direct sunlight visibility.
The 72% of the standard color gamut that Samsung's 10.1" high-res tablet display is able to reproduce is also larger than the 64% on the iPhone 4, and the 61% on the iPad 2, but still has a way to reach close to 100% realism.
Well, LG is not sitting still while Samsung is making these announcements. It came up with a new version of its IPS-LCD screens, called AH-IPS (Advanced High Performance In-Plane Switching). The press release states it sports
1.5 to 2 times higher resolution
than LCD displays with typical such. We'd assume LG means the ones sporting 480x800 pixels for smartphones and 1024x768 for tablets, since the "Retina Display" is not exactly typical with its 640x960 pixels. Not that 1.5 times or even 2 times those sound bad at all for the AH-IPS displays with 3.5", 4.5", 7" and 9.7" sizes, that LG will be demonstrating at SID 2011 next week. In addition, LG promises wider color gamut, better light transmission for
improved outdoor visibility
, and lower power consumption.
Promises and tech specs aside, we can't wait till next week to see how the naked eye of attendants perceives both Samsung's and LG's new high-resolution mobile displays.
source:
Nouvoyance
,
Engadget
&
DisplayMate
Recommended Stories