Apple's Tim Cook on the Note 7 incident: "We welcome all switchers"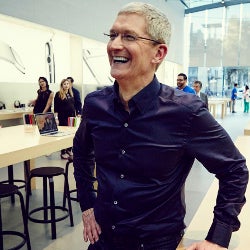 Yesterday, Apple announced its
results for its fiscal fourth quarter
. With 45.4 million units sold, the company is slightly below
last year's number
of 48.04 million phones sold in Q4, but still topped Wall Street analysts' expectations of 44.8 million.
Of course, the iPhone is a hot device and everyone expected it would do much better than many of its competitors this year. But it's no stretch to assume that Apple has enjoyed a slight boost in sales due to the
recent flop
of the
Samsung Galaxy Note 7
. The Sammy phablet's explosive nature did cause a number of people to turn away from the South Korean giant's products and look for alternatives. It's no surprise that many of them
went straight for an iPhone
.
In a report call, CEO Tim Cook outlined that Apple Pay transactions have grown 500% thanks to international growth of the servicelocations, and that Apple will be looking forward to delving into the IoT and smarthome solutions.
Cook did say that the Note 7 ordeal has most probably resulted in a boost of sales for the iPhones, though, he didn't linger or gloat with the statement. All he mentioned was that the opportunity presented by the Samsung incident is hard to estimate, but Apple is happy to welcome all the switchers.
Demand for the
iPhone 7
and
7 Plus
still far outweighs the supply, Cook added, and the company's current focus is to catch up. Whether that's going to happen soon is anyone's guess, but if the past has taught us anything, it's that it may take a couple of months.