Apple tops expectations with sales of 45.4 million iPhone units during its fiscal fourth quarter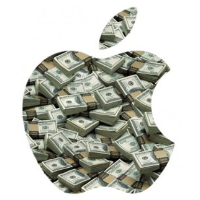 Apple announced this afternoon that it sold 45.4 million units of the Apple iPhone during its fiscal fourth quarter. That topped Wall Street expectations of 44.8 million, but was
down from the 48.04 million sold during last year's fiscal fourth quarter
. CEO Tim Cook said, "We couldn't be more excited about the customer response to the
iPhone 7
and the
iPhone 7 Plus
." Still, it was the third consecutive month of lower year-on-year handset sales, something that never happened prior to the fiscal second quarter of this year. Apple sold 9.2 million iPad tablets during the three month period.
During the quarter, Apple introduced the
Apple iPhone 7
and
Apple iPhone 7 Plus
. They are the first iPhone models in history to ship without a 3.5mm earphone jack, and with IP67 dust and water resistance. The new handsets also carry what arguably is the most powerful chipset used to drive a smartphone, the A10. The iPhone
7 Plus
features a dual camera setup in the back.
Apple caught a break when Samsung had to pull the
Samsung Galaxy Note 7
off the market after a number of units exploded. Samsung stuffed the phablet with high-end specs and new features like an iris scanner in an attempt to hold off the latest iPhone models. While exact numbers are unknown, Apple is most likely obtaining additional sales that might have gone to the Galaxy Note 7. In addition, some of those who purchased the flawed phablet might have exchanged it for an iPhone 7 Plus.
Apple's company wide revenue slightly missed forecasts as revenue came in at $46.90 billion vs. predictions of $46.94 billion. Earnings, at $1.67 per share, topped the Thomson Reuters consensus estimate by one cent. One positive announced by Apple deals with the company's first fiscal quarter. The tech titan predicted revenue from October through December to come in at $76 billion to $78 billion, a range higher than the $74.9 billion expected by Wall Street.
Speaking of Wall Street, Apple's shares rose .51% or 60 cents during regular trading hours to $118.25. After hours, the stock is down 2.05% or $2.43 to $115.82.
source:
CNBC