Apple's Phil Schiller trash-talking Android for malware: 'Be safe out there'
51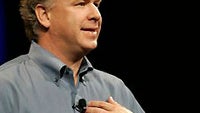 Scaremongering is
security companies' favorite tactic
nowadays as we continue seeing 'alarming' reports about Android's so called security problem. Not surprisingly, those that scream loudest about how insecure Android is, happen to also sell costly anti-malware software.
The latest one comes from F-Secure. Bear in mind that while
F-Secure's report
brings some interesting points, it is far from being an independent report that you can fully trust. Claiming that Android is insecure is in the company's direct favor - it offers a costly $10 anti-malware app on Android.
What's more surprising, though, is that now Apple joins security companies malware chants as vice president of marketing, Phil Schiller, Apple's second public face after Tim Cook, tweeted 'Be safe out there' linking the F-Secure report.
That's a direct blow to Android and a somewhat new strategy for the otherwise tight-lipped Apple. What's interesting is that the F-Secure report also mentions that Android is more targetted by crackers because of its booming popularity.
The reality of the situation is that if you stick to Google Play, you'd be safe in most of the cases. And if you run 4.2 Jelly Bean, you'd be protected even against malicious apps in third-party stores.
Still, Google's anti-malware bouncer platform and constant quick clean-ups of Google Play cannot protect you from yourself. Rogueware and spyware apps do exist on third-party app stores, and earlier Android versions might be vulnerable. But then again, that's the price you pay for your freedom of choice, something that other platforms cannot boast about.
source:
@PSchiller
Be safe out there: f-secure.com/static/doc/lab…

— Philip Schiller (@pschiller) March 7, 2013