Apple's 'Move to iOS' Android app gets crushed with one-star ratings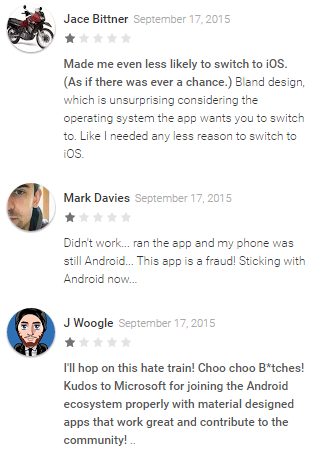 As if to prove the love/hate relationship of Android and iOS users, Apple's lonely Android app, called, ahem,
"Move to iOS,"
is being crushed with one-star reviews over at the Play Store. The app just became available yesterday, concurrent with the
iOS 9 release
, and the reviewers took their time to comment not only on the merits of the app itself, but on Apple's ecosystem as a whole.
Everyone with even a passing knowledge of the Android-iOS rivalry can imagine what kind of hilarity has ensued over the poor bridge-crossing "Move to iOS" app. Twitter wars have nothing on the argumentative reviews as to why you shouldn't move to iOS at all, or why isn't the app following Google's Material Design guidelines, which are, in fact, just that - guidelines.
At the time of writing, "Move to iOS," which helps you transfer your content from an Android to an iPhone more seamlessly, should you wish to do so, has an average score of less than 2, which would probably raise an eyebrow or two with any unsuspecting user that tries to install it for said purpose, and that might be the point here.