Samsung TouchWiz UX Hands-on
16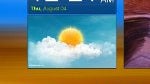 Back at CTIA 2011, we managed to get a small sampling of the
Samsung TouchWiz UX interface
running on prototype units of the original Samsung Galaxy Tab 10.1, but after some wait, we're finally able to experience it in all of its glory. Stopping by the
Samsung Experience Center in New York City
, we managed to get our review unit updated with the actual final build of the new customized Honeycomb experience – and honestly, we're rather excited to see how Samsung is able to further beautify the already gorgeous platform.
Visually, the TouchWiz UX interface shares many commonalities with its smartphone platform brethren with its
adjustable live panels
. Though nice, it's not the most visually alluring interface we've seen – mainly because it's a bit more static with its approach, as opposed to employing a ton of 3D transition effects. Regardless of that, some will appreciate that live panels are customizable in size so that you can lengthen them to your liking. Moreover, things like the weather and clock live panels offer all the usual set of pertinent information. With some others though, like the Gmail and Social Hub ones, there's a bit of interaction with them. Unfortunately, the TouchWiz UX interface appears to have some
noticeable performance issues
with the tablet's responsiveness – and it's more prominent with live wallpapers active.
Adding a nice touch to the experience, the
mini apps tray
that pops up when you press on the arrow icon in the system bar offers some usefulness. Specifically, up comes 6 icons that give quick access to the task manager, calendar, world clock, pen memo, calculator, and music player. Naturally, the nice thing about them is that they don't obtrusively impact what you're doing, but rather, they simply overlay on top. Sure, some are more useful than others, like the task manager that manages to one-up the scrollable apps listing panel, but the rest are mainly straightforward with their functionality. Furthermore, we just like how the task manager manages to increase the multi-functioning aspect of the platform.
Seeing yet another change, the quick panel has been updated as well and offers a lot of functionality without going into the separate sections – like having access to modifying Wi-Fi, GPS, sound, auto rotation, notifications, Bluetooth, and flight mode.
In terms of inputting text, we now find the
Swype keyboard
along for the ride with the TouchWiz UX interface. Of course, the main Swype keyboard encompasses the entire width of the display, which can prove to be tiring because of the amount of travel needed. Luckily though, you can minimize it so that the layout is shortened to make it easier on your fingers.
The Find My Mobile feature allows you to track where the Samsung Galaxy Tab 10.1 is currently located, but of course, it requires you to set up a Samsung account for it to work. In order to track it, you can go the samsungdive.com web site on any browser to find out. Additionally, you can execute other tertiary functions like ringing the tablet – much like what we see out of comparable services out there. Music Hub is an a la carte download service that allows you to purchase songs much like anything else out there in the market. At the same time, Media Hub functions in just about the same manner in allowing you to purchase or rent content like movies and television shows.
With the Social Hub app, it aggregates your social networking content all in one place – which has support for Facebook, Twitter, and LinkedIn. Not surprisingly, you're presented with the usual set of functionality like view posting, replying to something, and "liking" certain things. Also, there is a separate messages section that populates messages from your social networking accounts and emails simultaneously.
Lastly, we truly adore that there is a
screen shot taking function
that's accessed by simply pressing the icon located alongside the other Android buttons in the system bar.
Considering that this is the first time we're seeing a customized Honeycomb experience, it's something that makes the Samsung Galaxy Tab 10.1 jump out more than its rivals right now, which of course is yet another selling point for it. We applaud the initial offering, but we're already hungry to see how they refine the interface to truly go above and beyond the competition.