Apple's AirPods could hit the shelves in the next few days?
12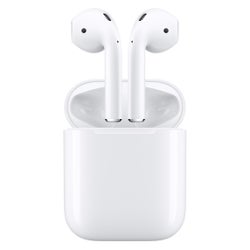 Back in October, Apple announced that it was
delaying the release of its wireless Bluetooth AirPods
. Recently, we told you that a problem with sound being captured by the two wireless earpieces was one of the issues that caused the delay of the product's launch. Another problem is that the microphone on the device is allowing too much background noise to go through. There was talk that since some in the media had already reviewed the product, Apple's reputation was on the line. In addition,
the company risked losing a ton of revenue
that it could have earned during the holiday shopping season.
All through last month, there was talk that the AirPods would still be released before December was out. Early last month, sources told us to expect
the accessory to be hitting the market before the end of the year
. That report
dovetailed with an authorized Apple reseller who had heard the same thing
. And of course, who would know better than Apple CEO Tim Cook, who said at the end of November
that the AirPods would be launched within the next few weeks
.

Throw in UI designer Jon Gruber's name among those calling for a December release of the AirPods. The connected Gruber mentioned this on his podcast that his sources who work for Apple Retail are telling him that the product could be released in the next few days. Apple expects to sell quite a few of the AirPods at $159, especially since the Apple iPhone 7 and Apple iPhone 7 Plus do not have a 3.5mm earphone jack. Considering the number of iPhone 7 and iPhone 7 Plus units sold, Apple has a ready made audience to sell to.



"They are getting very close to missing the holidays. I have heard, just in the last 24 hours, I have heard not from a very well placed little birdie, but from a birdie, that there is a possibility that, that there are whispers among people who work in Apple Retail that they might actually come in 'the next few days.'"-Jon Gruber, The Talk Show


source: TheTalkShow via BGR