Apple delays the release of AirPods
51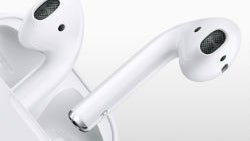 Bad news for customers who wanted to get their hands on Apple's new wireless AirPods to use with their shiny new iPhones. Apple has officially said that the AirPods are not going to be shipping on time and will be delayed in getting to people. Unfortunately, Apple hasn't really explained why there has been a delay.
The only statement Apple is giving on the matter is:
The early response to AirPods has been incredible. We don't believe in shipping a product before it's ready, and we need a little more time before AirPods are ready for our customers
Apple had originally planned on having the AirPods go on sale in October, but there are unknown issues delaying that. Those who had pre-production models for testing had noted various issues with battery life and physical problems, but there's no knowing why Apple has chosen to push back the release of the AirPods.
Maybe Apple will explain more tomorrow at the Mac event, but we wouldn't bet on it. So, until Apple says more, customers will have to wait longer to drop $160 on wireless earbuds.
Recommended Stories