An authorized seller of Apple products says that AirPods will be available sometime in December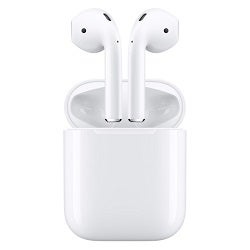 At Apple's press event that took place back in September, we witnessed the courage that the company had to remove the headphone jack from the
iPhone 7
and
7 Plus
. The absence of the iconic 3.5-millimeter port is Apple's biggest push for wireless headphone technology, and while the included Lighting EarPods are certainly serviceable for the time being, there's a great deal of anticipation surrounding the forthcoming
AirPods
. Despite being announced more than two months ago, Apple has yet to offer any official word on their upcoming
wireless headphones
. The last rumor that we heard said that the
AirPods wouldn't be available for purchase until sometime in January
, but a new report reinstates the idea that the headphones will in fact go on sale before 2016 is over.
This report comes by way of Alza.cz - the Czech Republic's largest online retailer and fully authorized reseller of Apple products - as the website has tweaked their listing for the upcoming AirPods. The Alza.cz website now says that Apple's AirPods will start shipping sometime in December, and this lines up nicely with a report from
AppleInsider
earlier this month that AirPods would see the light of day before 2016 was up. However, seeing that a reseller such as Alza.cz has a shipping time frame of December, it could be possible that Apple will start selling AirPods directly even sooner - possibly before the end of November.
If that isn't enough reassurance for you, there have also been confirmed reports that Apple retail stores have already received demo units of the new AirPods and that the company's employees have been going through training on the new gadget. In fact, one source commented on the matter and said that there was "no way" that AirPods wouldn't come out until January.
As goofy as they still look, I can't wait to try AirPods for myself.
As goofy as AirPods still look to me, I'd be lying if I said I wasn't interested in giving them a whirl myself and seeing just how well they actually work. The tight integration they look to offer with iOS could be a real treat for iPhone-owners, and if this report turns out to be true, we might not have to wait too long after all before we get to make some final judgments on them.