98% of AirPods owners are satisfied with their purchase of the wireless Bluetooth flavored earphones
27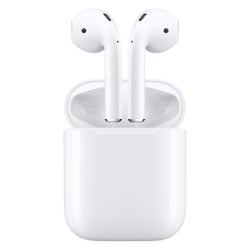 Apple's wireless Bluetooth powered AirPods are a hit. Even after
waiting through a two-month delay
, purchasers found themselves to be significantly satisfied with the product. According to a survey conducted by Creative Strategies and Experian, 98% of the 942 people surveyed about the AirPods were satisfied with their purchase of the wireless earphones. Breaking it down even more, 82% were "very satisfied," while another 16% said that they would consider themselves to be "satisfied." The remaining 2% are "Neither satisfied or disatissfied," and "Disatissfied."
The 98% score set a record for a new product coming from Apple. As a comparison, the original generation
Apple iPhone
had a 92% satisfaction rating when it launched in
2007. Three years later, the
Apple iPad
had a 95% satisfaction rating after the tablet was released by Apple. The Apple Watch, in 2015, scored a 97% satisfaction rating when first launched.
The survey also asked users to respond to certain features. For example, 93% were satisfied that the AirPods didn't fall out of their ears. 95% said that they were happy with the battery life and the comfortable fit. 97% were satisfied with the case for the AirPods, which doubles as a charger for the device. 97% liked how they can use Bluetooth to pair the AirPods to an iPhone, and 98% were happy about how fast the AirPods charge up.
Apple AirPods owners who responded to the survey, were asked to write down words related to their satisfaction with the product. The most common words to define the AirPods were:
Fit
Magic
Sound Quality
Convenient
Love
Good Sound
Battery Life
Apple has come up with a product that is almost universally loved by those who have purchased the device. While that is hard to do in any industry, it is harder to do in the world of tech. And when asked if they would recommend the wireless earphones, owners gave the AirPods a score of 75 in a survey where a score of 70 equates to a "world class" product. The iPhone scored a 72 in that same survey back in 2007.

source: Tech.ipinionvia 9to5Mac