AppleCare vs Samsung Premium vs SquareTrade vs carrier prices, or is phone insurance worth it
20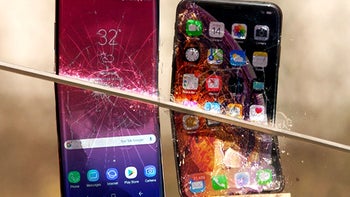 image: iPhone XS Max vs Note 9 Katana scratch test
Accidental damage

: for first incidents, phone insurance is worth it only for the most expensive repairs, i.e. iPhone XS/Max with AppleCare;

Theft or loss

: phone insurance is worth it.
If you break the screen of the new
iPhone XS Max
or
Galaxy Note 9
, it will cost you the whopping $329 and $239 without insurance, respectively. Crack their backs, and the bill you are confronted with on the XS Max
jumps to $599
and goes down to $99 for the Note's back panel.
That's on top of about a week of turnaround time to get those replaced if you don't go to an Apple Store, and the only display provider is Samsung. If that is not a rallying cry to summon your inner grace each time you handle this phone or keep it in bubble wrap, we don't know what would be.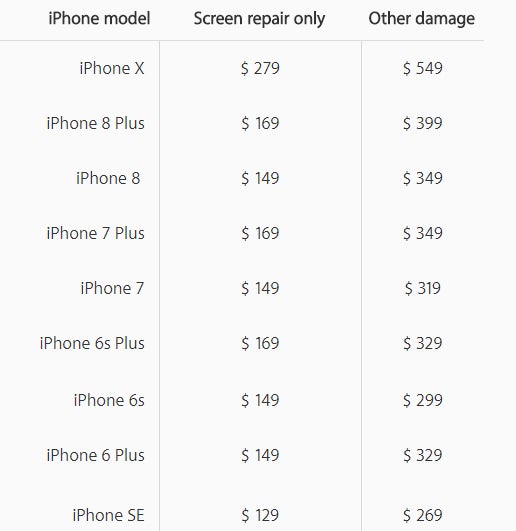 Apple's iPhone repair prices
Granted, you can always put an armored case around these glass puppies, plus a layer of screen protection, but, let's face it, it won't look as good. What if you are a phone nudist, and don't place any protection so as not to cover the shiny surface, until just that one night out on the town comes, or a natural born klutz, and constantly drop your handsets? Well, then what's left for you is to either pony up a Benjamin (or six), if you shatter your high-end phone or to try and insure the gear from the get-go, so the sting on your finances is not as piercing. Which insurance to pick, though, and is it worth it at all?
Well, we've compared a few popular options below to help you choose if you decide to go the insurance route with deductibles for expensive phones like the XS Max or the Note 9; at the prices to replace the edge display, or the iPhone's glass housing without insurance, they are the ones most likely to benefit. There are carrier (mostly handled by dedicated companies like Assurant or Asurion), manufacturer and third-party options, so take a peak, and tell us your verdict on whether this kind of protection is worth the investment for you.
2-year payment
Deductible (per claim)
Coverage and misc.
AppleCare+
$149 or $7.99/mo. for iPhone XR, iPhone 8 Plus, or iPhone 7 Plus

$199 or $9.99/mo. for iPhone X, XS or XS Max

$29 screen damage


$99 other damage

Repair or accidental damage replacement, both parts and labor, from Apple-authorized technicians, up to 2 claims per period.

Enrollment: within 60 days of purchase
AppleCare+ w/ Theft or Loss
$199 or $9.99/mo. for iPhone XR, iPhone 8 Plus, or iPhone 7 Plus

$299 or $14.99/mo. for iPhone X, XS or XS Max
$199 for stolen iPhone 8, iPhone 7, and iPhone 6s


$229 for iPhone XR, iPhone 8 Plus, iPhone 7 Plus, and iPhone 6s Plus

$269 for iPhone XS, iPhone XS Max, and iPhone X
AppleCare+ with Theft and Loss requires you to have Find My iPhone enabled on your device at the time it is lost or stolen.

Up to 2 claims per period.
Samsung Premium Care
$11.99/mo.
$99 per claim
Accidental damage including drops, liquid spills and cracked screens, with free replacement device

Up to 3 claims annually, no loss or theft coverage

Enrollment: within 365 days of purchase
SquareTrade
$89 a year
$99 per claim
Up to 4 claims, the value of your cover is limited to the original purchase price of your item. Convenient service at any local repair shop, but no loss or theft protection.
Verizon
(Total Equipment Coverage)
$9/mo.
$29 screen damage (Galaxy S9, iPhone 8)
$149 device replacement (Galaxy S9, iPhone 8)

$199 for iPhone XS Max or Note 9 device replacement (no screen repair options)
Up to 3 replacements or repairs in a 12-month period, loss or theft coverage.
AT&T
$9/mo.
$49 screen repair (subject to availability and location, not for phones like Note 9 or XS Max)

$150-$299 device replacement
Up to 2 claims per year, loss, theft, accidental damages and out-of-warranty repairs.

Declining deductibles - 25% at 6 months with no claims, 50% at 12 months.
Sprint
$15/mo. (Galaxy S9, iPhone XR)

$19/mo. (Note 9, XS Max)
$140 device repair, up to $275 device replacement, iPhones fall under AppleCare ($29 screen replacement, $99 other damage)

Up to 3 claims per year, loss, theft, and physical damage.
T-Mobile
$10/mo.
$175 per claim
Up to 2 claims per year
The Nutshell - is phone insurance worth it?
Looking at the table above, it's easy to deduce that phone insurance doesn't come cheap, but if you are paying in monthly fees of five or ten bucks, it is bearable. Is it worth it, though? As with most comparisons, there is no straight answer that would be valid for all situations, so let's look at a few examples with the most typical accidental damages - a broken screen or a cracked back.
The best pro-insurance case is if you, say, have Apple's most expensive handsets. If you own, say, an iPhone XS Max, whose OLED screen costs $329 to replace outright, AppleCare will net you $230 for the same with the deductible. At first blush, this doesn't seem like a great bargain, but if you manage to inflict, say, another display crack for the coverage period, or a shattered back that would otherwise cost $599 to swap, or get your phone snatched, the calculation turns in favor of AppleCare. Moreover, it offers a very quick repair or replacement service in any Apple shop, as long as you make an appointment online beforehand, so you won't have to stay parted from your iPhone for too long.
If we take the case of the Note 9, a shattered screen is $239, but a cracked back just $99, as much as Samsung's Premier Care deductible, to which you also have to add the number of months you've paid $12/month for the insurance. Ditto for the other insurance options.

Samsung Repair prices
If you lose those phones, or they get stolen, however, you are out of luck with no-loss plans like Premier Care or SquareTrade. To cover those eventualities for Android handsets, you might want to dole out for a carrier insurance plan. It costs about as much as the other options, but you pay in small monthly installments, and the worst-case contingency covered in those plans is that your top-shelf phone gets lost or stolen. Given that those puppies cost north of $900 now, it's still worth it when you draw the line.
Phone insurance is good to protect against theft or loss, but that's about it
Of course, these pro-insurance examples are somewhat extreme, as the screen replacement for most phones is not as expensive, or you might be of the prudent type who's never got their phone lost or snatched. In that case, you could soldier on without insurance. The more you drop, lose, or are in any other way careless with your handset, however, the more any type of insurance will pay off over the span of the typical protection plan.
Recommended Stories