Apple wants to own the iphone5.com domain name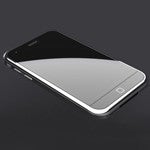 Let's say that it is a boring Monday afternoon, and for grins and giggles, you decide to visit a totally random web site. How about
iphone5.com
– what could hide behind this speculative URL? Well, nothing but a small forum with discussions about the next iPhone iteration, as we discovered after opening it.
However, the maker of the iPhone is not too happy about a third party owning the aforementioned domain name. In fact,
Apple has filed a complaint with the World Intellectual Property Organization (WIPO)
and will likely acquire the
iphone5.com
domain name in the near future.
Now, one way to interpret this is that the successor to the
iPhone 4S
will be known as the iPhone 5. However, that doesn't seem very likely to us. After all, given that what we expected to be called the iPad 3 is now humbly known as the new
iPad
, the next iPhone will probably be marketed simply as the new iPhone.
It seems like once again,
Apple is just hunting down domain names
mentioning the iPhone, but owned by third party companies. That is likely done in order to eliminate confusion among consumers. That is why if you visit
iphone4.com
, for example, you will end up on Apple's web page dedicated to the iPhone 4S, and not on some shady web store selling iPhone cases.
The forum is still active at the moment, but that might change after the WIPO states its final word on the case. As for the name of the next iPhone, that will most likely remain a mystery until the device is officially announced.