Apple turns to animated ads for the Apple iPhone 5c
9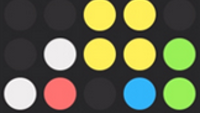 With one recent report
showing inventories of the Apple iPhone 5c at over 3 million units and rising
, Apple has decided to turn to an animated ad campaign for the handset that was seen on the landing pages of both the
New York Times
and
Yahoo
websites. On the latter site, the ad stays inside a box, while on the former's web page, the ad takes over the entire screen with dots before returning to the normal size for a web ad.
The ads, which are interactive, show the
Apple iPhone 5c
screen covered with the same 35 dot pattern that appears on the phone when it is safely nestled into one of Apple's silicone cases made for the device. Eventually, the ad shows 6 video clips with popular tunes playing in the background. In one clip, Nena's "99 Luftballons" play as images of balloons turn into the dot pattern.
Apple normally doesn't resort to using this style of advertising, but some desperation might be settling in at Cupertino. With a huge number of units taking up space at Pegatron, and retailers and carriers still holding a large number of unsold units, Apple will soon need to clear some room for its new models. Speculation has Apple
delivering a 4.7 inch Apple iPhone 6 and a 5.5 inch phablet
sized version of the device. Soon, Apple might be forced to turn from pretty animated ads to drastic price cuts as a way to get buyers to remove the iPhone 5c from the shelves.
source:
Yahoo
,
NYTimes
via
AppleInsider