Apple to replace faulty iPhone chargers as a part of an exchange program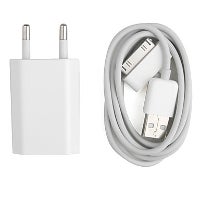 If you are a proud owner of an
iPhone 3GS
,
iPhone 4
, or an
iPhone 4s
and you purchased your device between October 2009 to September 2012, then you might want to go ahead and take a look at the model number of your charger. If it happens to be A1300 and the "CE" letters are painted solid gray, then you are eligible for a charger replacement, as your charging accessory could overheat and pose certain safety risks. On top of it all, the A1300 charger got sold separately, as well, which means that there are probably millions of faulty iPhone chargers out there. Literally.
Still, Apple will replace said chargers for free and will provide the affected users with redesigned adapters. The replacements come with the A1400 model name and the "CE" letters are only outlined in gray. In order to exchange a faulty adapter for a safe one, you need to take it to an Apple Retail Store or an authorized Apple Service Provider. Your iPhone serial number will have to be verified, too.
Apple says that the A1300 has been on the shelves in Albania, Austria, Belgium, Bulgaria, Croatia, Czech Republic, Denmark, Egypt, Finland, France, Germany, Greece, Hungary, India, Indonesia, Israel, Italy, Latvia, Lithuania, Luxembourg, Macedonia, Moldova, Montenegro, the Netherlands, Norway, Poland, Portugal, Romania, Russia, Slovakia, Slovenia, South Africa, Spain, Sweden, Switzerland, Turkey, and Vietnam.
Are you among the affected users?
source:
Apple
via
The Verge