Apple to clean up its act by switching to renewable energy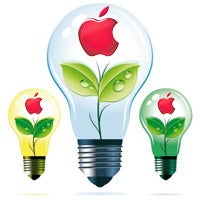 Apple CFO Peter Oppenheimer announced that all of its data centers would be making the switch to coal-free electricity. Apple will install two solar arrays, which will span 250 acres, and build a bio-gas fuel-cell plant in and around Maiden, North Carolina where its core data center is located. It plans on completing the transition of that center by the end of 2012.
"I'm not aware of any other company producing energy onsite at this scale," Oppenheimer said in a telephone interview with Reuters. "The plan we are releasing today includes two solar farms and together they will be twice as big as we previously announced, thanks to the purchase of some land very near to the data center in Maiden, which will help us meet this goal."
Oppenheimer said that the facility in Prinevelle, Oregon was next on the list. He said that while it is still in the planning stages, they have identified several renewable energy sources nearby and will eventually run that facility off of "100% renewable and locally generated sources."
As expected, Greenpeace responded positively to the news. It's Senior IT Analyst Gary Cook said, "Apple's announcement today is a great sign that Apple is taking seriously the hundreds of thousands of its customers who have asked for an iCloud powered by clean energy, not dirty coal."