Greenpeace releases hundreds of black balloons in Apple 5th Ave store in protest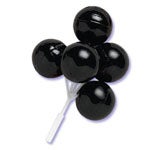 Environmental activist group Greenpeace released dozens of black balloons in Apple's 5th Avenue New York City store this week. Greenpeace says its actions were a response to Apple using dirty energy to fuel the iCloud service.
Apple has received some negative publicity in response to its decision to use coal generated power to fuel the iconic iCloud product. Greenpeace contends that Apple should be a more environmentally friendly corporation, and use cleaner solar power generation methods. Apple likely uses coal generated power because it is significantly more economical than solar or other green power generation methods.
Greenpeace has received criticism as being hypocritical in the past, using smog-belching, diesel powered boats to carry protest groups next to oil rigs, and we're already beginning to see similar comments in regards to its latest stunt inside the Apple store. How can Greenpeace complain about environmental impact of dirty power usage, then release dozens of toxic balloons into the environment, some of which will likely escape from the store and endanger wildlife.
We can't help but wonder what passers by thought was going on when they were in the area after the balloon release. Greenpeace ultimately was trying to make a statement, but it almost looks like an Apple promotion in store. The joke would certainly be on Greenpeace if the stunt caused hype leading to additional Apple product sales.
source:
Gizmodo