Protesters arrested after blocking train carrying coal for Apple
40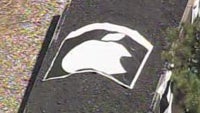 Seven people were arrested and charged with trespassing after chaining themselves to train tracks used by Duke Energy and Apple to ship coal outside of the Marshall Steam Station in Catawba County, North Carolina. Protesters also raised a sign that read, "Save Our Mountains Clean The Cloud" and draped Apple logos on the train cars, which you can see in the photos below that were captured by WCNC Charlotte, North Carolina and Greenpeace.
Activists maintain that coal is a dirty energy source that causes asthma, makes people sick, and contributes to global warming. They feel companies should be focused on using clean, renewable energy sources instead.
"Apple should be more transparent about its coal problem, and take steps to start solving it, as other tech companies have," said Casey Harrell, Greenpeace International IT analyst in a statement.
While Apple has not commented on the events yet, representatives from Duke said they have done a lot of work to reduce emissions and plan on shutting down some of their dirty coal plants. While they support people's right to protest by speaking and holding signs, they said they have zero-tolerance for demonstrations like this because of safety issues.