Apple signs up 800,000 new Apple Pay members from Bank of America
10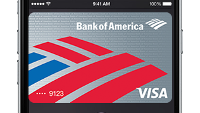 Bank of America announced on Thursday that last quarter, 800,000 of its customers signed up for mobile payment system Apple Pay. Those people added 1.1 million credit cards to Apple Pay over the same period. There are plenty more Bank of America customers that could be signing up for the feature. After all, the bank has over 60 million clients.
While there are other mobile payment systems, most of them around for a longer time than Apple Pay, the latter has been promoted tirelessly by its partners
including Bank of America
and
Capital One
. Both banks have paid for prime time television commercials featuring the tap to pay system. The latest data shows that while Apple Pay has already taken 1% of the market, Google Wallet has 4%. But if the banks continue to market the system heavily, Apple will eventually surpass its rival. Right now the service works only with the
Apple iPhone 6
and the
Apple iPhone 6 Plus
. Once the Apple Watch is launched, the system will work with the
Apple iPhone 5s
and the
Apple iPhone 5
when paired with the timepiece.
Apple Pay currently works with 90% of the top credit cards in the U.S. by transaction volume. Over 500 banks support the service. Soon,
Apple will be taking Apple Pay over the border to Canada
with
a launch in the U.K. expected in the first half of the year
.
source:
AppleInsider