Bank of America wants you to "Get Smart" and use Apple Pay
26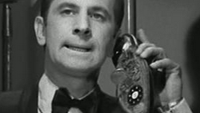 If you've watched any television over the last couple of weeks, you have probably seen Bank of America's ad for Apple Pay. Fans of classic television will recognize the 30 second spot as being a take off on the opening of
Get Smart
. Could there be a subliminal message there for consumers?
Apple Pay is off to a good start
, grabbing 1% of the mobile payment market in the U.S. after just one month. What makes that number impressive is that the feature is available now only on the
Apple iPhone 6
and
Apple iPhone 6 Plus
. At McDonald's, half of all mobile payment transactions are now handled by Apple Pay. At Whole Foods, Apple Pay has already handled over 150,000 transactions.
With a large number of Bank of America branded credit cards in use, it obviously is in the financial giant's interest to have Apple Pay widely used. That explains why the Money Center bank is running the ad. Check it out for yourself by clicking on the video below.
source:
BankofAmerica