Apple shows how it's quality testing the iPhone 6 and the iPhone 6 Plus, #bendgate intensifies
55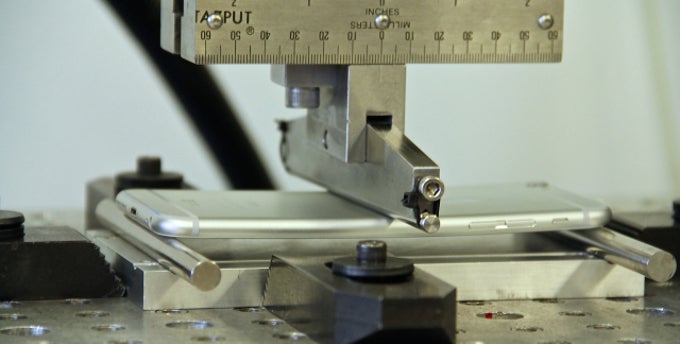 Cupertino already issued an official statement regarding the notorious and
already viral
#bendgate
build quality issue that some users of the larger of the iPhones have experienced – provided that you feel like it, you can bend the iPhone 6 with your bare hands if you apply enough force to the aluminum shell. Surprisingly enough,
it was also said that only 9 users have formally
filed in complaints with Cupertino.
Apple afterwards decided to further assure its potential customers that it's treating all of its iPhones to the necessary quality tests. Certain journalists were allowed inside Cupertino's test labs, where the newest crop of iPhones are being trialed. It was revealed that more than the aluminum outer bodies, as well as the stainless steel and titanium insides of more than 30,000 units have been tested. The tests in question are a sit test, a three-point bend test, a pressure point test, and a torsion test.
All of these tests have a lot to do with the bending issues, but the sit test and the three-point bend one seem to be a tad more related. Apple says it performs a number of different sitting scenarios, directly sitting on the device over a soft or a hard surface among others. During the three-point bend test, on the other hand, a 25kg weight is being pressed against the rear center point of the iPhone. Apple claims that enduring this weight is completely within the capabilities of both the newest iPhones.
The pressure point test in particular consist of applying a 10kg weight with a lot of pressure directly to the device. Last, the torsion test comprises twisting and squeezing the iPhone 6 and the iPhone 6 Plus in various directions in order to test the integrity of the aluminum shell.
What do you think – should have Apple tested the iPhone 6 and iPhone 6 Plus more thoroughly or some faulty units among the plethora of already-sold ones are nothing to write home about? Drop a line below and let us know!
source:
Recode
via
GSMArena
Recommended Stories