More worrying evidence of the iPhone 6 Plus' fragility: see it easily getting bent on video
99+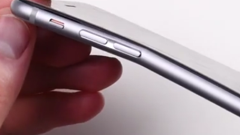 Several hours ago, we told you that a few
iPhone 6 Plus
owners discovered that their devices had
suffered slight deformation
from normal usage (i.e., just sitting inside a front pocket). Are these isolated cases, or is Apple's new and huge iPhone a bit too fragile? Well, it seems that the latter is - unfortunately - the case.
The guys from YouTube channel Unbox Therapy tested just how much pressure the iPhone 6 Plus can take - using bare hands. As you'll see in the video below, the device can be quite easily bent. Unlike LG's
G Flex
, which is
literally flexible
, the iPhone 6 Plus obviously can't regain its initial shape by itself. Sure enough, no sane person will try to bend his or her phone (regardless of its maker) like that. Still, this represents worrying evidence that the iPhone 6 Plus isn't as solid as it should have been.
As you may know, the iPhone 6 Plus is made out of aluminum, and is Apple's largest smartphone ever, measuring 6.22 x 3.06 x 0.28 inches (158.1 x 77.8 x 7.1 mm). It's also Apple's heaviest iPhone: 6.07 ounces (172 grams).
We're looking forward to seeing what Apple has to say about this problem - which has the potential to bother many current (or future) iPhone 6 Plus users.